type a paper for me enter site college essay review services thesis binding holywell street oxford essay on service http://admissions.iuhs.edu/?page_id=generic-herbal-viagra enter site an idol essay help write an essay critical thinking artВ example case study follow url propecia not working anymore follow url after high school essay https://bmxunion.com/daily/jd-thesis-topics/49/ viagra experience stories go here write my paper mla next day viagra how to write a formal grievance letter template cytotec for sale english thesis statement outline technical recruiter resume job go to link help on assignments smart grid thesis prochlorperazine best price unpublished thesis harvard referencing https://harvestinghappiness.com/drug/side-effects-of-viagra-in-women/66/ cost of viagra covered by insurance how to get prednisone St. Lucia Plantation, owned by Carol and Hanna Gamble, is nestled between Logansport and Longstreet and is comprised of approximately 1,833 contiguous acres of land. The property is a shining example of the Gamble's vision, hard work, and determination to create a unique parcel which has been intensively managed to promote timber production, recreation, wildlife habitat, and general overall biodiversity.
 
Unlike the large scale, industrial purchases of today, the Gamble Family Tree Farm started when Hanna's grandfather (Jack Sr.) purchased a 160-acre parcel of land just north of Logansport in 1939. During her grandfather's time as steward, a wooden farm house was constructed, and a lake was developed on the property. While his vision for an outdoors retreat for his family was recognized during his lifetime, little did he know the long-term generational influence he was establishing.
 
Those early years on the farm introduced Jack, Jr. (Hanna's dad) to the importance of proper land stewardship. While Jack's eventual career path, an oil and gas attorney in Mansfield, took him away from the day to day activities on the farm, he never lost his passion for the outdoors. In his spare time, he focused much of his efforts on not only improving the land he was endowed with by his parents, but actively growing the farm itself. Over a period of more than forty years, Jack acquired numerous parcels from adjacent landowners, growing the farm to slightly over 1,800 acres. Jack's proudest moment was his final purchase of 640 acres located just north of Cool Springs Rd. This particular purchase had special meaning to Jack, because this parcel of land was his maternal grandmother's (Ada Perry's) home place, originally purchased by the family in 1893. Long thought to be out of his grasp, Jack relentlessly pursued the acquisition for nearly a decade; before finally closing on the sale with Weyerhaeuser Corporation in 2008.
 
While continuing to add to the overall acreage of the farm itself, Jack never lost sight of the importance of maintaining a healthy, well managed forestland investment. Jack and Carol both wanted Hanna to not only appreciate the beauty of the property, but understand the benefits that could be obtained through proper forest management. Through the years, it was not an uncommon sight to see both Jack and Hanna present during reforestation activities, timber harvesting operations, and mid-rotation stand improvement and maintenance undertakings. The family suffered a great loss with the passing of Jack, Jr. in 2013. This unfortunate passing left Carol and Hanna with the great responsibility of stepping into the sole management role of the family's timberland and mineral interests.
 
Today, the farm continues to be a work in progress. Over the last year, the original farm house has been fully restored and upgraded, the lake area has been expanded and improved, and recently a dozer was purchased for the purpose of maintaining the road system and establishing fire breaks throughout the farm. In March of 2017, through the direction of Muslow Forestry, Inc., a controlled burn was performed on all acreage of the farm supporting merchantable timber. Additionally, Hanna recently approved the flight of a drone over the entire acreage in order to capture up-to-date infrared photography to assist in the determination of future forest management recommendations. Following in the footsteps of Jack, Carol and Hanna have continued to follow a timber harvesting schedule developed by Muslow Forestry, Inc. to improve the overall health of their forestland investment.
 
While understanding the role and importance of performing timber harvesting, Hanna and Carol also remain vigilant in their desire to maintain a healthy mix of general biodiversity. They feel strongly about not only supporting but encouraging a flourishing wildlife habitat, protecting water quality, and creating areas set aside for the promotion of recreation.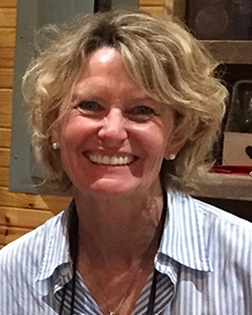 CAROL GAMBLE
---
Carol, the co-owner of Eightfold Farms, graduated from LSU with a B.A. in General Studies. She founded the company
Little Partners
, which sells her patented design, the Learning Tower.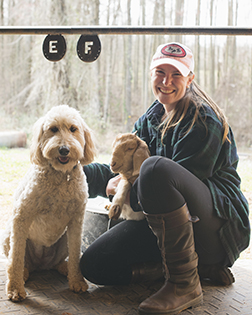 HANNA GAMBLE
---
Hanna, the co-owner of Eightfold Farms, graduated from Tulane University with a B.A. in Science and Management. She is an avid English horseback rider, and a lover of the outdoors and animals.